Dated: 12-4-2016 – Hira Industries, a supplier of products to the construction sector, has launched a new technical foam manufacturing facility in Ras Al Khaimah, UAE.
The state-of-the-art facility in Al Ghail, Ras Al Khaimah, is spread over 125,000 sq ft and employs 150 skilled staff, said a statement from the company.
The facility will produce and export Aerofoam technical foam worldwide. The market for technical foam used for insulation is worth more than $300 million in the Middle East, and Aerofoam will soon play a major role in the technical foam market after the expansion. Due to the region's sustained growth, particularly in the UAE, the company was driven to expand its production capabilities culminating with the launch of the new facility, it added.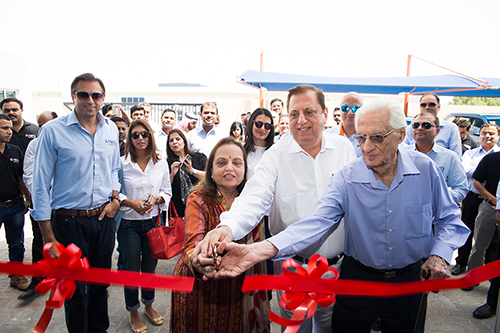 Hira Industries is a leading manufacturer of technical foam insulation for the building and construction sector in the region, and has created a niche in the market for its thermal insulation products catering to commercial and residential properties, shopping malls, hospitals, schools, offices, museums, hotels and industrial facilities among others.
Manish Hira, managing director of Hira Industries, said: "With the wealth of construction projects carried out in the region, the demand for Aerofoam product is tremendous and we are seeing rapid growth year on year."
"Events such as Dubai's Expo 2020 and the 2022 FIFA World Cup Qatar have further driven the industry. As such our move to set up a new facility is strategically planned," he added.

Currently, Hira Industries is also involved in manufacturing air conditioning products, fixing systems, rubber products, adhesive tapes and of course technical insulation products. With offices and factories setup in Middle-East, India, Australia, Sri Lanka and South East Asia, Hira is driving fast into becoming a major global supplier into the construction projects in the high growth construction sectors.
Sources:
www.khaleejtimes.com/business/local/foam-insulation-factory-opens-in-ras-al-khaimah
www.gulfconstructiononline.com/stories/source/?url=CONS_305361.html
www.gulfindustryonline.com/stories/source/?url=IND_305361.html
www.climatecontrolme.com/2016/04/hira-industries-opens-new-technical-foams-manufacturing-factory-in-ras-al-khaimah/
www.constructionweekonline.com/article-38612-hira-sets-up-insulation-foam-factory-in-uae/